Facts about nerve compression
Nerve compression or spinal cord compression is something that occurs when any disorder or spinal condition puts pressure on the spinal cord. Usually, nerve compression is a phenomenon that can take place in almost any part of your spine i.e. from your neck to the lowest part of your spine. Apart from back pain, spinal cord compression can also cause pain, numbness and weakness specifically in the lower back and leg. Sciatica nerve compression can lead to pain in the leg and buttock area. Sciatica pain occurs in only one leg and hardly if ever trickle to both the legs.
Conditions related to spinal cord compression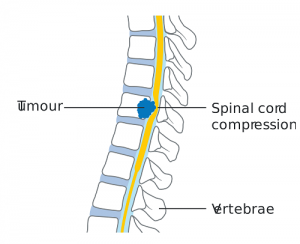 There are lots of spinal conditions that may result in spinal cord compression. These conditions include:
Rheumatoid arthritis
Spinal infection
Osteoarthritis
Spinal tumor
Spinal injury
Abnormal spine alignment
Bone diseases
Spinal nerve compression treatment
Before deciding upon a treatment option, back doctors usually perform a physical examination to understand the signs and symptoms of the patient. They may also order different diagnostic tests like X-ray, MRI scan and CT scan to get to the root of the problem.
Treatment
The usual treatment of spinal nerve compression includes medications, physical therapy, surgery and injections. Back surgery is only considered as an option when the nerve compression leads to serious problem like cauda equine syndrome.  Let us take a brief look at the treatments.
Physical therapy – Includes back strengthening exercises as well as back support equipment like braces and cervical collar.
Medications – Includes pain killers, NSAIDs as well as steroidal injections
Chiropractic care – Includes back pain treatment with the help of spinal manipulation
Surgical treatment- Invasive treatment for spinal cord compression usually include laminectomy and discectomy
Let us help you make the right decision for your spine just fill the form given above or by giving us a call at (888) 779-8716 today.