Doctor for Back Pain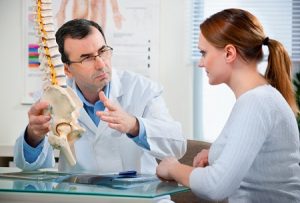 Back pain is pain felt in the back that usually originates from the muscles, nerves, bones, joints or other structures in the spine. A doctor for back pain or back pain specialist is doctor who specializes in handling back pain health issues.
Back pain may have a sudden onset or can be a chronic pain; it can be constant or intermittent, stay in one place or radiate to other areas. It may be a dull ache, or a sharp or piercing or burning sensation. The pain may radiate into the arms and hands as well as the legs or feet, and may include symptoms other than pain. These symptoms may include tingling, weakness or numbness. To exactly determine your back pain problems, it is recommended to see a a doctor for back pain.
The spine is a complex interconnecting network of nerves, joints, muscles, tendons and ligaments, all of which are capable of producing pain. Large nerves that originate in the spine and go to the legs and arms can make pain radiate to the extremities.
Back pain is classified according to etiology in mechanical or nonspecific back pain and secondary back pain. Approximately 98% of back pain patients are diagnosed with nonspecific acute back pain which has no serious underlying pathology. However, secondary back pain which is caused by an underlying condition accounts for nearly 2% of the cases.
Back Pain Specialists In The Woodlands
Dr. Imran Fayaz, MD, The Woodlands, TX, 77380
The Brain & Spine Institute of North Houston
1111 Medical Plaza Drive
Suite 200
The Woodlands, TX 77380
Dr. Mark Yezak, DC, The Woodlands, Texas, 77384
Chiropractor
The Houston Spine and Rehabilitation Centers
3101 College Park Drive
The Woodlands, Texas 77384
Dr. Bonaventure Ngu, MD, The Woodlands, TX, 77380
Premier Spine Institute
9200 Pinecroft Drive
Suite 465
The Woodlands, TX 77380
Dr. Jeff M. Arthur, MD
3115 College Park Dr Ste 112
The Woodlands, TX 77384
Dr. Hui Kang, MD
1111 Medical Plaza Dr Ste 250
The Woodlands, TX 77380
Dr. Vidyadhar S. Hede, MD
9323 Pinecroft Dr # 100
The Woodlands, TX 77380
St. Luke's The Woodlands Hospital
17200 St. Luke's Way
The Woodlands, TX 77384
936-266-2000
Dr. Brian T. Chimenti, MD SAVE  SHARE
Specializes in Orthopedic Surgery
The Woodlands Sports Medical Center
1441 Woodstead Ct Ste 300
The Woodlands, TX 77380
(281) 367-0400 (Office)
David Pope DC Chiropractor
Texas Performance Health Care
10077 Grogans Mill Road, Suite 535, The Woodlands, Texas, 77380
Jack Chapman MD Anesthesiologist
Woodlands Pain Management
9200 Pinecroft Dr., Suite 280, The Woodlands, Texas, 77382
Carlos J. Durham MD Pain Management
Pain Resources
3115 College Park Dr., Suite 103C, The Woodlands, Texas, 77384
Mark J. Egerman MD Pain Management
Pain Resources
3115 College Park Drive, Suite 103C, The Woodlands, Texas, 77384
Let's make things easier for you. Just fill out the form on the page or call us at (888) 779-8716 to start their road to back pain recovery