ABOUT DEGENERATIVE DISC DISEASE
Degenerative disc disease is not exactly a disease of the spine but a backbone condition which is usually associated with the natural process of aging. With age the spinal discs start losing their water content as well as their height which brings the vertebrae closer than they are normally supposed to be. This often results in spinal nerve openings becoming narrower which means they don't absorb the shocks as well as they are supposed to do. This usually happens when the patient is running, jumping or walking for a long period of time. Apart from age incorrect body movements and poor posture can also cause disc degeneration.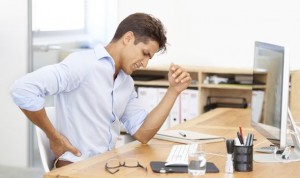 CAUSES & SYMPTOMS OF DEGENERATIVE DISC DISEASE
The main cause of degenerative disc disease is the age and the natural process of growing older. With age our spinal discs lose their elasticity, flexibility as well shock absorbing quality. Apart from age this backbone condition can also develop from injury to the back.
Usually there are no glaring symptoms of degenerative disc disease. However, this condition can cause leg pain, back pain and other functional problems like numbness or tingling in legs or buttocks. The patient may also find it difficult to walk or run.
DIAGNOSING & TREATING DEGENERATIVE DISC DISEASE
The doctors usually start with a physical examination while keeping their focus on the back and lower extremities of the body. They also study the medical history of the patient. The doctors can also order imaging test like X-rays, MRI scan or CT scan.
TREATING DEGENERATIVE DISC DISEASE
The treatment for degenerative disc disease includes both surgical and non-surgical treatment.
Non-surgical treatment includes medications, physical therapy and chiropractic care.
Spinal fusion- This is one of the most common surgery for degenerative disc disease.
Let us help you make the right decision for your spine just fill the form given above or by giving us a call at (888) 779-8716 today.